PRODUCT DESCRIPTION
These high-quality, 60mm-K Mecanum Wheel Compatible with 6.7mm Coupling are designed to add 360º maneuverability to your project vehicles with easy turning and direct lateral movement. Each wheel consists of 9 rubber rollers and these rollers are placed between two plastic plates. You can make very high-quality and high-end projects by using these wheels. You can use Mecanum wheel technology in all your projects, from your industrial projects to your hobby projects.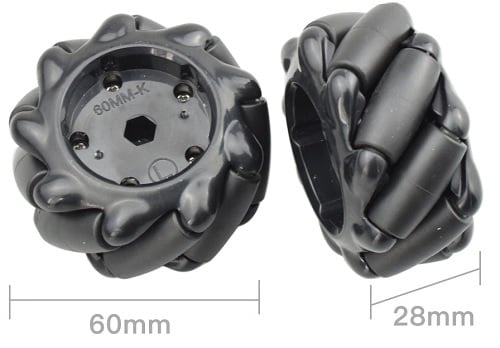 Thanks to Mecanum wheels, you can make your projects more functional.
---
Features:
 High-quality rubber for big friction force, smooth tire operation process without the jump, and noise is small.
The latest mecanum wheels for omnidirectional movement and allow your robotics to not only travel forward and backward, but also side to side. Perfect for tight spaces.
This robot Mecanum wheel is compatible with building blocks and TT motors.
The outside of the wheel is an artificial wheel shape, the color black, which brings a more three‑dimensional appearance.
The packing includes 2 left and 2 right 60mm mecanum wheels.
---
Specifications:
Color: RED
Weight: 44g (single)
Inner diameter: 3.3mm
Outer wheel diameter: 60mm
Thickness: 28mm
Captive Screw Diameter: M3
Captive Screw Head Diameter: 6mm
Number of lower wheels: 9
Carrying capacity: can bear 5kg (4 together)
---
Package Includes:
2 x RED Mecanum Wheel 60MM-Right
2 x RED Mecanum Wheel 60MM-Left