Product Description
The MLX90614 is an Infra-Red thermometer for non-contact temperature measurements. Both the IR-sensitive thermopile detector chip and the signal conditioning ASSP are integrated into the same TO-39 can.
Thanks to its low noise amplifier, 17-bit ADC, and powerful DSP unit, high accuracy, and resolution of the thermometer is achieved.
The thermometer comes factory calibrated with a digital PWM and SMBus (System Management Bus) output. As a standard, the 10-bit PWM is configured to continuously transmit the measured temperature in the range of -20…120˚C, with an output resolution of 0.14˚C.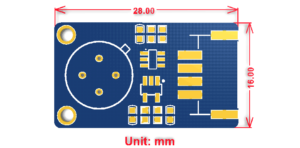 In the case of working with an MCU:
VCC ↔ 3.3V ~ 5V
GND ↔ GND
SDA ↔ MCU.I2C data line
SCL ↔ MCU.I2C clock line
Application:
High-precision contact-less temperature measurement
Industrial temperature control
Household appliances temperature control
---
Useful link:
For Software setup, please follow this tutorial.
---
Features:
Measures the surface temperature of an object without touching it, depending on the emitted IR waves of the target.
Also measures the average temperature over an area.
Contact-less, high precision, high resolution, fast response.
Calibrated before delivery, with gradient temperature compensation.
Works with 3.3V/5V MCU system directly, thanks to the built-in level translation.
---
Package Includes:
1 x Infrared Temperature Sensor
1 x PH2.0 4PIN wire