Product  Description
Do you want to build your own power bank by using your 18650 Li-Ion battery cells? Then you should take look at this 2 in 1  Waveshare Solar Power Manager (C) Supports 3x 18650 Batteries Multi Protection Circuits. This completely assembled PB in a strong aluminium case with a stylish look is compatible with dynamic 6V~24V solar panels inputs. It can recharge the 3 x 18650 rechargeable Li-ion batteries through a solar panel or via a USB TYPE-C port by any 5V DC power adapter. On the output side, it provides 5V / 3A regulated output (with multi protocols support including PD/QC/FCP/PE/SFCP) which can charge the Mobile phone in a fast-charging Mode @15W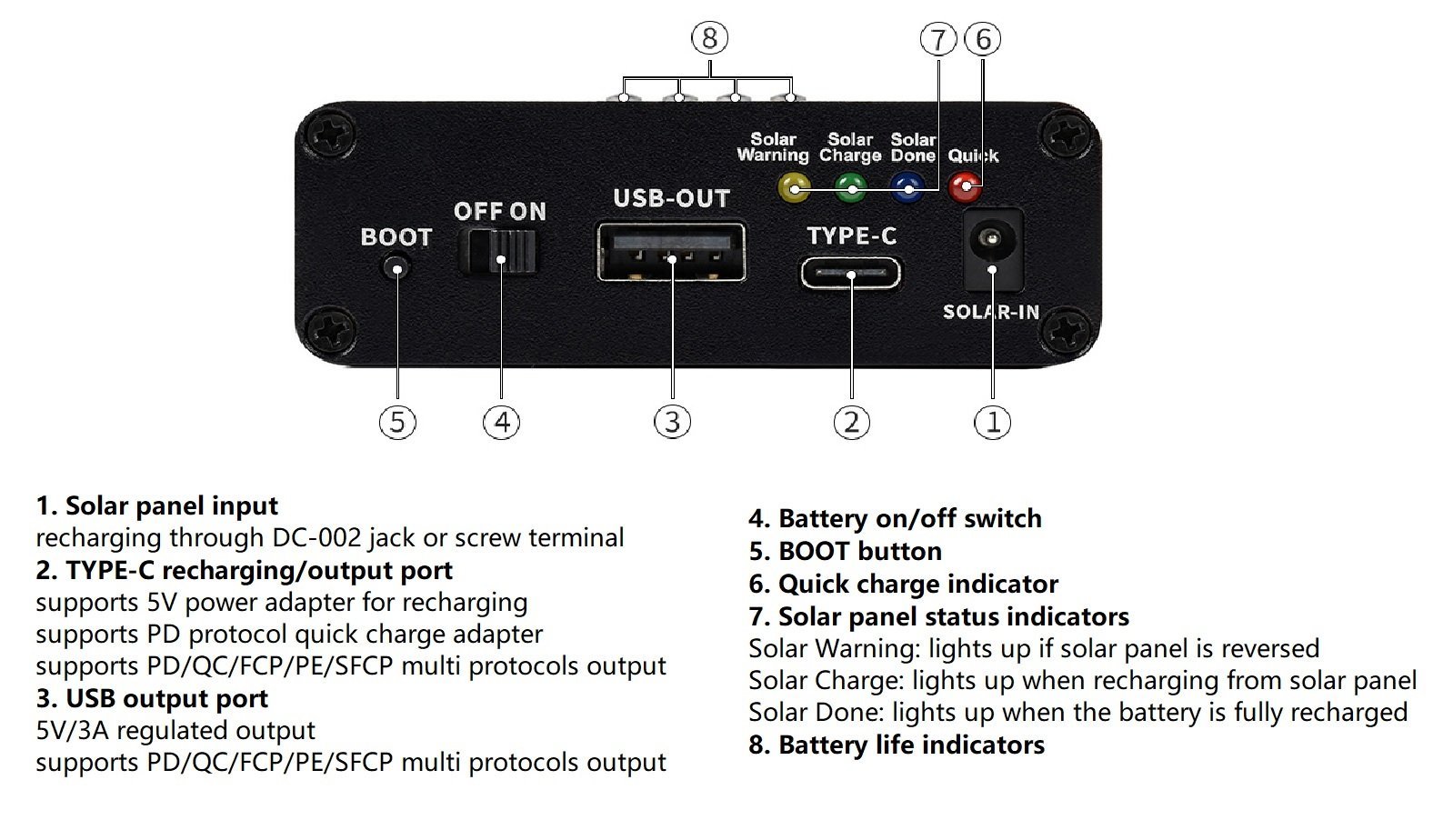 The module features MPPT (Maximum Power Point Tracking) function and multi-protection circuits, therefore, it is able to keep operating with high efficiency, stability, and safety. Waveshare Solar Power Manager (C) Supports 3x 18650 Batteries Multi Protection Circuits is suitable for solar-powered, low-power IoT, and other environmental protection projects.
Note: This Power Bank is compatible with 3 x 18650 Lithium-ion cells. (Not included in Package)
Recommended Cell for High-Quality performance:
PANASONIC NCR18650B 3400mAh (1c) LI-ION BATTERY
LG INR18650MJ1 3500mAh (3c) LI-ION BATTERY
LG INR18650MH1 3200mAh (3c) LI-ION BATTERY
---
Capacity indicators:
| | | | | |
| --- | --- | --- | --- | --- |
| Battery capacity | LED1 | LED2 | LED3 | LED4 |
|  75~100% | ON | ON | ON | ON |
| 50~75% | ON | ON | ON | OFF |
|  25~50% | ON | ON | OFF | OFF |
|  5~25% | ON | OFF | OFF | OFF |
| 1~5% | Flashing | OFF | OFF | OFF |
| 0% | OFF | OFF | OFF | OFF |
---
How to use:
Turn the switch to ON and press the BOOT button. The LEDs will turn on and indicate the capacity.
Connect the solar panel to DC-002 or the screw terminal with the adapter. If the connection is correct, the Solar Charger indicator turns on. If you reverse the connection, the Solar Warning indicator will turn on. The Solar Done indicator will turn on if the battery is fully charged and turns off the Solar Charge indicator.
If you connect the power adapter to the TYPE-C interface, the Quick LED indicates the fast charge mode. The LED is off if your charger doesn't support a fast charge. The indicators of capacity flashing when charging and turn off when fully charging.
The Type-C interface can only be used for discharging, you can connect it to power other USB devices.
USB -OUT interface can be used for powering other USB devices.
---
Notices:
⚫BOOT button: In fast-charging mode with Type-C interface, single-click the BOOT button and exit from fast-charging mode.
⚫If the type-C charger interface and the USB-OUT interface work at the same time, the fast-charging function is invalid.
⚫The fast charge mode can only work if the power adapter supports fast charging.
---
Features:
Supports MPPT (Maximum Power Point Tracking) function, maximizing the efficiency of the solar panel
Flexible battery recharging: from solar panel or USB TYPE-C power adapter
Compatible with 6V~24V solar panels, DC-002 jack input or screw terminal input
Onboard MPPT SET switch, select the level closed to input level to improve recharging efficiency
An onboard aluminium electrolytic capacitor and SMD ceramic capacitor, reducing the ripple, stable performance
Embedded battery holder, supports 3x 18650 rechargeable Li-ion batteries
Several LED indicators, for monitoring the status of solar panel and battery
Multi-protection circuits: overcharge / over-discharge / reverse-proof / overheat / over current, stable and safe to use
⚠ Caution: DO NOT put any non-rechargeable battery, like dry cell, into the battery holder. Serious consequences including explosions may occur if you try to charge a non-rechargeable battery.
---
Package Includes:
1 x Waveshare Solar Power Manager (C) Case
1 x DC-002 connector to connect the solar panel output
1 x Screw Driver fitting screws