Custom Solutions For Multiple Sectors
ZBOTIC provides a one-stop solution for setting up a fully-equipped ultra-modern Atal Tinkering Lab: right from applying for an ATL to after set-up training and round-the-clock training support. Our turnkey package comprises of our original kits that come with the latest technology and world-class training and teaching material.
We understand that schools have their own limitations and though a lot of them would like to implement the innovation program at full scale, some of them may want to take baby-steps.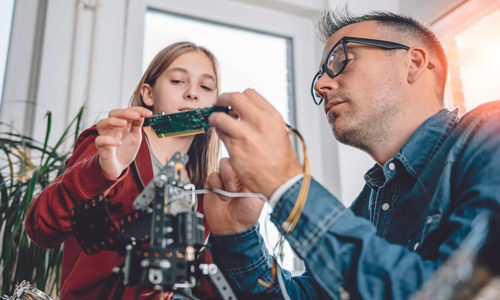 The rise and potential of all the electronic devices has led us to create this new and exciting project, where we intend to offer a huge range of products in a simple and useful way for the customer. The client will be able to find all the products, technical information and support of any product at the same place.
Automation can be the path towards greater efficiency and flexibility. But not every automation solution automatically leads to success. The most practical use is a system that is individually tailored to your requirements and fits in harmoniously with your  environment and the level of automation you need. As your professional partner, we plan and implement a customised automation solution that provides you with the maximum flexibility to respond to increasingly individualised customer requests. It will also let you confidently manage growth in the variety of goods, while automatically improving your general and economic efficiency. Once the project has been brought to a successful conclusion, we will be there to assist with a close-knit customer service network that's unique in the industry. In doing so, we ensure your automated plant continues to perform reliably and reduce any potential downtimes to a minimum.
Zbotic has been dedicated to the development of robotic products, robotics engineering services and robotics R&D, which has led us to offer custom solutions for our customer based on their projects.
Custom solutions for every sector.
Whether it's for new facilities or modernisation or expansion of existing facilities, we have advised many small, medium-sized and large companies worldwide on automating their processes, while serving as main contractor for the entire duration of their projects.
Manufacturing industry
Automobile Industry
Electronic Consumables
Food & Drink
Chemical industry
Smart Homes
Partner In Your Successful Journey
Through Creativity, Integrity & Innovation
WE ARE SERIOUS PEOPLE
Responsibility
WE ARE PASSIONATE
Creativity
WE ARE DETERMINED
Quality
WE ARE QUICK TO SOLUTION
Accountability